June 14, 2019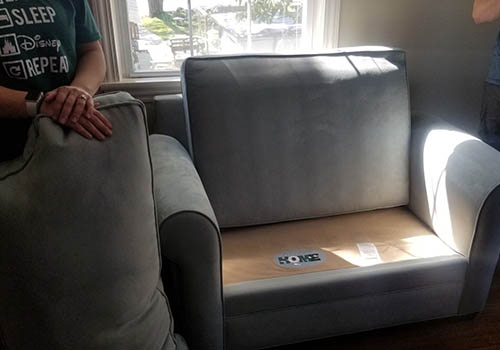 As part of our bank's giving program, our Training department (which includes this year's group of bank trainees, like me) has been helping the Emmanuel House in Carthage. For our volunteer hours, we went in groups and took turns doing odd jobs like putting furniture together, painting, etc. I was in the last group to go, and one of the finishing touches involved getting a couch from another employee's home so it could be donated to the house.
I was elected to help a fellow employee, Johnny, on this mission. Someone gave us the address, and told us the door would be unlocked to the sunroom where we'd find the couch. We hit the road.
When we got to the house, our first step was to find the sunroom. Around back seemed like a logical choice, so we walked around and onto the back deck. We were somewhat confused by the layout of the house, but through the door we saw what was probably the sunroom. And it had a couch. One problem, though: there were people sitting on it. Johnny slowly opened door, and right away a lady asked who we were and why we were there. I guess that's when we realized we were at the wrong house! We'd been off by a digit when we put the address into our GPS. We quickly apologized and went next door to what we really hoped would be the correct house.
Ah! Now we're cooking. There it was, just like they'd said. It was a little on the small side, but no one was using it at the time, so we took that as a good sign. We loaded the couch on the truck, and Johnny dropped me off back at work on the way to deliver it.
When I got back from lunch, the department manager approached me. She said, "You'll never believe what happened." In my mind I had a vision of the couch flying off the trailer before it reached its destination. Wrong. After all the drama, we had managed to pick up the wrong couch! Johnny was heading back to Lebanon to pick me up so we could return the wrong couch and get the correct one.
This time, back at the same house, we finally got everything right – the house, the room, the couch, all of it. The delivery went along without (further) incident and Emmanuel House received a nice new piece of furniture. All that effort was worthwhile if it helps someone who needs a nice place to relax.
We also had an idea that we'd probably make a great moving company. Maybe the 'couch' we tried to deliver was more like a big chair, but in our defense, the actual couch turned out to be in a different room. And at least we hadn't taken a seat out from under those poor confused neighbors!
Back to Blog