July 11, 2019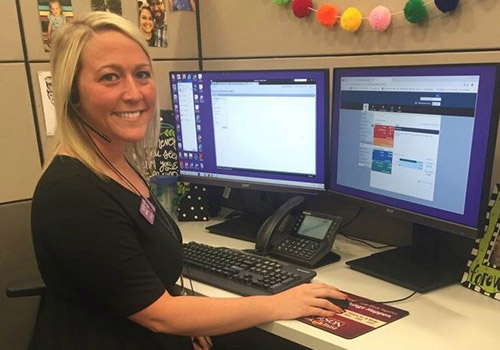 As I'm going through my department rotations in the trainee program, I like to get as much on-the-job experience as I can. I am a hands-on learner and I think that will make me a more a well-rounded employee, and it'll give me the best possible foundation for assisting customers or employees later.
When my time came to shadow the employees in our Customer Solutions Center, I decided to ask if I could answer real customer calls. That's not the normal process – I don't think a trainee has asked to do that before – but I wanted to get the full experience. I knew I would get a better understanding of what the CSC does that way, as opposed to sitting and listening to one side of a conversation while I watched someone else.
My past experience with WBT really helped, and if not for that I might have taken a different approach. I worked in deposit operations before I went into the training program, and I'd been a customer service rep before that, so I was confident about answering most questions a customer might have. I've also learned a lot about phone etiquette during my time with the bank. I knew I'd need to answer the phone with a warm and professional greeting, and that my voice might be the only impression of our company a caller ever gets (no pressure, right?).
As it turned out, I was fairly well equipped to help most of the customers who called, and I had a CSC employee there with me every step of the way. The majority of the calls were for account balances, fund transfers or online banking password resets, things I was pretty familiar with from other roles. But there were a few challenging moments. One customer had a question about her credit card, and I didn't have any experience on the system where that information is housed. Amber, the employee that was my supervisor in the department that day, was a huge help leading me through that system while I was on the call.
After my CSC rotation ended, I found out I'd answered 72 calls over the course of a few days. I don't believe any of those customers knew I was in training, which was important to me, and even though I had some help along the way, it was always behind the scenes. Not having to hand any calls off to the regular staff gave me a sense of accomplishment, and some extra confidence to carry through the rest of my training.
The CSC serves our customers in a very important way by helping them with their everyday needs. I may have subbed in for a little while, but I have lots of respect for my coworkers who do that job all the time. They're real problem solvers who are great at staying cool, calm and friendly in a situation where you never know what the next call is going to bring.
Back to Blog