July 29, 2019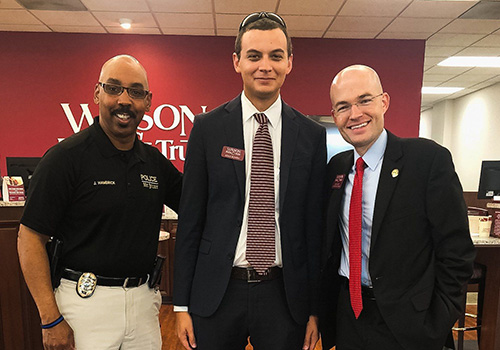 My grandfather and father worked in law enforcement for nearly 40 years, so I grew up around a police department and wanted to get into that line of work too. I was born and raised in Lebanon. I was part of the first graduating class at the new Lebanon High School, and I focused on a criminal justice career path there, then went to Vol State and earned an associate honors degree in criminal justice.
During my last semester at Vol State in 2016, I started my first security job, working in the public safety department at the Nashville International Airport. After I was hired, my initial goal was to move into the police department at the airport once I finished my degree (airport safety personnel are trained in police, fire and medical fields). But as I went along, I came to realize that it takes a special type of person to work in public safety. I also started to think more about the dangers associated with modern policing. These factors, along with some personal experiences on the job, helped me decide to take my career in a different direction.
After Vol State, I went back to college online at Western Governors University that summer to pursue a bachelor's degree in business management. Still interested in working at the airport, I had hopes of earning a job there on the business side, in operations. I finished with my bachelor's a year later, and the job search was on. I continued to look for positions at the airport, but nothing turned up immediately, and as I kept an eye out there, I applied for a job at Wilson Bank & Trust.
I began working at the bank in February 2018, in our Electronic Banking Department as a communications specialist. With no prior banking experience, of course, I needed to quickly adapt to a whole new industry and learn as much as possible. Not long after I started, I heard about the Bank Trainee program and knew I wanted to make that my next goal. I've always heard that when you have a goal in mind that it will ultimately happen, and that's how it worked out; I entered the program in January of this year. In the trainee program, I was able to learn more about how the bank operates as whole, and how important it is for the operations and retail sides to work together. I was also able to develop more relationships at the bank, even beyond those that started in Electronic Banking, which touches many employees and departments.
One thing I hadn't planned on when I started down the business path was getting a job in security. But Elvis Huff, our security director at WBT, knew me and my family well, and he was aware of my pre-banking background. In making plans for growth in his department, he asked if I'd be interested in working for him as a security administrator. I was excited to accept, seeing an opportunity to both move forward in my career and work in an area that had interested me since childhood.
As of July, I've been transitioning into my new role. I'm more excited than ever about the future, not just for myself, but also for my new department and the bank as a whole.
Back to Blog