October 23, 2019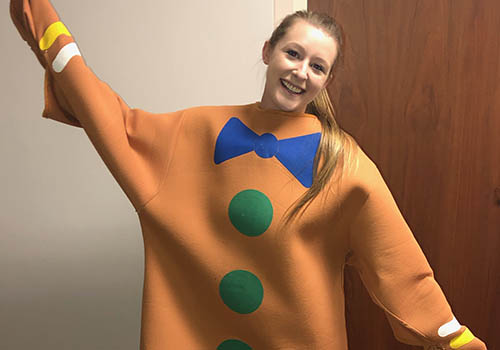 Just in case you aren't familiar, Oktoberfest is our two-day fall festival at the Main Office with all kinds of activities for the community. Here's a recap of my four-day Oktoberfest experience. Hope you enjoy reading about it as much as I enjoyed living it!
Thursday
It's a few days before Oktoberfest, and Chelsea, Michael, Taylor and I are excited about working together as a team. We've become pretty tight over the past several months in the trainee program, but it's not often that we've been able to work together.
First thing in the morning, we report to the marketing department at the Operations Center. Michael and Taylor are sent with the Maintenance crew to unload hay bales and set up tents. Chelsea is sent shopping to buy lots of pumpkins and gourds for decorations. And me? I learn that I'll be spending the next four hours folding t-shirts for the car show on Sunday. But I'm outside enjoying the beautiful fall weather, so it's all good.
Things pick up after lunch, when we're assigned a special project: setting up a Toy Story-themed scarecrow display at the School Bank booth. Sounds simple, right? Not really – it actually turns out to be a good test of our teamwork. Who knew it could be so hard to make clothes stuffed with straw stand up on their own? More than a few times, Buzz and Woody collapse and their heads go rolling, but eventually we end up with a photo backdrop we can be proud of. Over the weekend, I see lots of people posing in front of the display, which completely makes up for any frustration in getting it put together.
Friday
One day until Oktoberfest! Today Chelsea and I are posted around the bank with some of the marketing team. Our job is to help all the arriving vendors find their booths and make sure they get set up okay. Michael and Taylor are off to do some of the heavy lifting, like loading fencing, delivering display racks and placing large signage. It's a busy day, broken up by a nice lunch with the whole setup crew.
When 4 o'clock gets here, it's all hands on deck as everyone comes together to finish setup. Employees from the Main Office and Operations Center team up to get the rest of the work done, in preparation for the hundreds of people that will be here the next morning.
Saturday
The big day is here and people will start arriving soon. Before we get to work, employees are treated to Chick-fil-A to energize us for the big day. Then I'm off to check in the last of the vendors and help them find their spots. Chelsea works in the School Bank booth today. Michael and Taylor have the most exciting role: Kiddie Korner! I mean, who wouldn't want to spend their day encouraging kids to toss rolls of toilet paper through a toilet seat?! I love seeing how happy this event makes all of our visitors. Many employees' family members and children are there, and it's cool how our work lives and personal lives overlap for a weekend.
Sunday
Saturday was a huge success, but today is the day I've been looking forward to the most, my time to shine. I couldn't wait for Sunday to get here, because for the next few hours I am Gingy the Gingerbread Man! The bank lobby has become a Christmas wonderland, and costumed characters are part of the fun. I can dance around and act silly, and no one will know who's in the suit (until now, I guess)! By the end of the day, I notice my cheeks are hurting from smiling in so many pictures – even though no one could see my face! Apparently you can't tell your brain there's no need to smile when there's a camera in front of you. The suit is a little scary to some kids, but only one actually cries (sorry to those parents!), and most of them have a blast interacting, so I'll take it.
Finally it's time to come out of the costume, but there's still work to do. As Oktoberfest closes down to guests, the breakdown/cleanup process gets started. This is an eye-opening experience for a first-timer. With everyone pitching in, and vendors moving out quickly, the Main Office starts looking like a bank again in just about an hour – almost like nothing had happened. Which is the idea, since it'll be back to business first thing Monday.
Oktoberfest takes months to plan, but our committees have it down to a science, and the entire process is a smooth one. This has definitely been my favorite event to work and attend, and I loved teaming up with the marketing department and the other bank trainees. Time to start counting down to the third weekend of October in 2020!
Back to Blog