October 15, 2020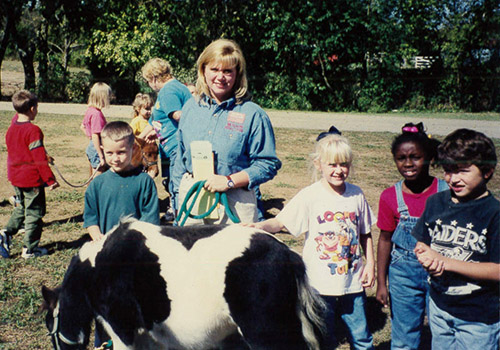 In recent years, this fun zone has occupied a full parking lot (and then some) at Oktoberfest, constantly bustling with youngsters, their parents, and the anticipation of fun and games galore. But just like Wilson Bank & Trust, Kiddie Korner grew from humble beginnings. Here's the inside story behind an attraction that draws throngs of kids to our signature fall event every year – straight from the organizer who's overseen Kiddie Korner's every twist, turn and addition for nearly three decades.
Building Blocks
When Dana joined WBT in 1991 (in loan operations, a department she now manages), the bank had only been around for four years, and Oktoberfest was still in its infancy – a small gathering fitting for the bank's loyal customer base at the time. A small children's area featured a single game or activity, like a softball throw, and it was run by just a handful of employees. As you might expect, Dana was part of the Kiddie Korner team during her first Oktoberfest, and she was asked to head it up the following year. In those early days, Dana's family would collect items and ideas throughout the year to use in Kiddie Korner, like discarded softballs from her husband's league team. It wasn't long before she added the event's first rented inflatable, and Kiddie Korner grew right along with Wilson Bank's following.
Spurring on the growth, in both areas, was CEO Randall Clemons, who challenged Dana regularly to make the children's area bigger and better and attract more and more families. With his support, she eventually expanded Kiddie Korner with a new inflatable each year and other options.
Critters and Creativity
In 30 years, the spirit of expanding the fun in Kiddie Korner has led to some creative, crafty and critter-filled experiences for young Oktoberfest goers. These were a few of Dana's favorites:
Visiting local schools with a traveling petting zoo to promote Oktoberfest for several years
A scarecrow making station
Llama rides
Youth soccer games on the old Castle Heights football field
Employee costumes (clowns and Dalmatians were a few of the themes)
Treasured Memories
As you'd expect, managing Kiddie Korner has left Dana with meaningful personal memories too. Her two children were young when she started the Kiddie Korner gig, so she was able to see the fun of Oktoberfest through their eyes (not to mention eventually recruit them and her husband to help with setup duties!), and they grew up around the event. Now, she's having the same experience with her grandkids.
Lasting bonds of friendship have also been formed and strengthened through Oktoberfests past, especially when small staffs required everyone to pitch in on day-long shifts. There was at one time a behind-the-scenes Friday night tradition before Oktoberfest: Once all the preparations were finished, employees had a little time to unwind by bouncing, climbing and sliding to give the inflatables a test drive.
Moving Ahead
The challenges of Kiddie Korner are much different now than before. In recent years, space limitations are more of an issue than filling the grounds with attractions, so mixing in new attractions for kids and families means maximizing square footage.
Whatever changes are in store, one thing's clear. It's hard to imagine Oktoberfest without Kiddie Korner, and just as hard for our team to imagine Kiddie Korner without Dana at the helm.
Back to Blog