An independent bank, deeply connected to our communities
Working hard to be your community bank.
In a world of bank mergers and acquisitions driven by the bottom line, Wilson Bank & Trust remains focused on serving the community. We're local. We're independent. The people who make decisions and help you at the window are your neighbors and friends. As your local, independent bank, Wilson Bank & Trust takes a personal approach to business by providing customized banking needs while staying committed to serving our communities across Middle Tennessee.
As a full-service community bank, you can access all of the resources necessary to manage your money and improve your financial well-being. We are committed to providing equal access to credit for everyone.
While we treat you like a neighborhood bank should, we also invest considerable resources to ensure you have access to convenient, time-saving technology.
Our Story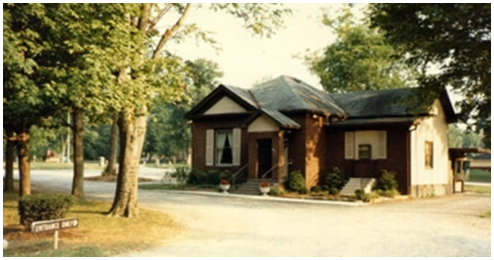 Wilson Bank & Trust was founded on May 5, 1987, by a group of local business leaders under the leadership of the founding CEO, Randall Clemons. The first office was located in this small house located in Lebanon, Tennessee. Since then, we've grown considerably with 29 offices in nine counties, and we remain focused on our mission to serve and assist our customers.
Community Relations
The communities where we live and work are the heartbeat of our business.
You'll find our name behind local sponsorships and donations, and you'll find our team members helping their neighbors through various charitable causes and local events.
We believe financial education is essential for everyone in all stages of life. That's why we support financial education in Middle Tennessee schools through our School Bank program. Children preschool aged through elementary school are able to learn important financial lessons. Our local bankers visit elementary and middle schools throughout Middle Tennessee to accept deposits and help students open savings accounts through on-site bank windows. Additionally, students can carry that momentum as they move through school and graduate into our Campus Checking account.
Community Councils
The ideas and perspectives of our neighbors are important in maintaining our role as an active member of the communities we serve. For that reason, we've established community councils — groups of local business leaders and professionals who serve as advisors to our board of directors. We appreciate the behind-the-scenes contributions that these individuals make to all of our efforts in the community.
Our Vision
We strive to be the bank of choice in Tennessee, providing every customer a brighter financial future by fulfilling their dreams with our unique community-centric approach.
Our Mission
The mission of Wilson Bank & Trust Holding Company is to maximize sustainable earnings while being a responsible business that renders high-quality service to customers through the efforts of fairly-treated employees. We will offer banking services to meet the needs of the communities we serve while assuring equal access to credit for everyone. The management and staff of the bank are to operate the bank in a sound manner to provide a proper return on assets. We believe that great things happen when management, employees and directors work together as a team!
Our Values
We believe in core values and principles as the foundation for our excellence in the workplace and the communities we serve.
Customer Focus
We earn our customers' trust by placing them at the core of our organization. We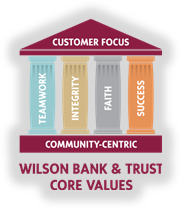 deliver true value by understanding and serving our customers' needs.
Teamwork
We believe in the effectiveness of a cohesive and welcoming work environment that recognizes the value of teamwork and continuous learning. This enables us to build relationships and meet the evolving needs of our community.
Integrity
We act with integrity and honesty in the work that we do, the people we interact with, and the decisions that we make. We are accountable to one another and our customers.
Faith
We are strong in faith, dedication and commitment. We share responsibility and embrace the strengths and abilities of one another while working toward common goals.
Success
We have a goal to achieve excellent results in all we do for our customers, communities and shareholders. We recognize that profitability is essential to our future success.